Tech Spotlight
Great new features just released for Revit 2015
The recently released Autodesk® Revit® 2015 R2 includes over 30 new user-requested features that add powerful capabilities, enhance software performance and help improve user productivity for construction firms, architects, and MEP and structural engineers. The most exciting new R2 update included in this release is Site Designer Extension for Revit, which helps construction firms seamlessly communicate with the extended team the details of site design and site planning – including details from Revit and Autodesk® AutoCAD® Civil 3D®.
With a new linked Industry Foundation Classes (IFC) model feature, construction firms are now able to dimension, align, snap, and host face-based families (grouping of model elements) in Revit with increased interoperability with other programs. This allows for additional design work even across various file formats.
Revit 2015 R2 is the fastest and most efficient version of Revit to date. Renderings and update views are faster, and the energy analysis engine feature uses less memory on larger BIM models.
Integrated, linkable PDFs allow design and construction firms to create and edit smarter sets of construction documents which allow for clearer and smoother communication between the design team. By clicking on a hyperlink, users can easily jump to a specific view or sheet in the PDF file within the project set.
If contractors don't have easy access to a site layout plan during preconstruction planning, project costs can quickly increase once they break ground on the project site. With Site Designer Extension for Revit, contractors now can integrate high-quality site layout plans with the design drawings to allow for valuable logistics planning before they get to the field. Contractors can import civil design files to resolve key logistics issues before preconstruction planning is finalized, including: storage areas for construction materials; placement of temporary roads; quantity of cut, gravel and stone; height of top soil storage; reclaimable materials; and more. This helps keep projects schedules on track. Temporary drainage areas and trenches can also be planned and located beforehand, and contractors are now better able to avoid stock piling over drainage lines and long distances from work areas, access roads, and hoist areas.
Once the final site design is ready from the civil engineer, Site Designer Extension for Revit allows contractors to properly plan an exit strategy that helps the team finalize site work while not interfering with construction in the field.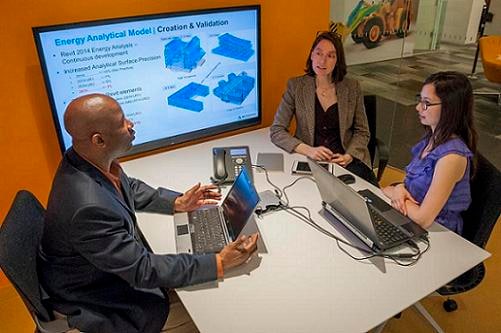 The Revit R2 enhancements include key features and technologies like Site Designer Extension for Revit to optimize project performance. These enhancements help make the editing process of complex site design elements more efficient and communication more seamless among the team. Get Subscription for immediate access to these valuable new features and powerful tools that enhance the performance of Revit and help make your work faster and easier.
For more information, visit the construction section of our Revit website:
https://www.autodesk.com.au/products/revit-family/features/construction/all/gallery-view